Other Events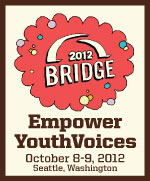 10th Annual Bridge Conference

Empower Youth Voices

October 8 and 9, 2012

Sheraton Seattle Hotel

For more information, please visit our 2012 Bridge Conference webpage.

The Bridge from School to Afterschool and Back is a two-day conference held in the heart of downtown Seattle. Bridge brings together afterschool and youth development (AYD) professionals, school leaders (e.g. superintendents, principals and classroom teachers), funders, researchers, policymakers, trainers/coaches and business leaders from across the country. The conference focuses on research, cutting-edge resources and strategies relevant to strengthening the services that youth (in grades K-12) receive both in and out of school. In our tenth annual Bridge Conference we focus on: Empower Youth Voices.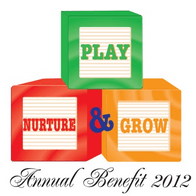 Join Montgomery Early Learning Centers on Friday, October 19th, 2012 in an evening of play as they celebrate the 25th anniversary of their professional development and technical assistance division, SEPASACC! The event will honor SEPASACC's 25 years of supporting professional educators and their commitment to the development of children. Included in the program will be the MELC Impact Award, which is presented to an individual who has made a significant contribution to and impact on the fields of Early Childhood Education and School-Age Programs; one whose efforts have helped to significantly advance MELC's mission through advocacy, leadership, innovation and dedication to the field. This year's recipient is Leslie Roesler, Associate Director at PA Key. Guests will have special, unlimited access to the Please Touch Museum, with additional perks for VIP upgrades! For more information about the event, to purchase your tickets or to purchase advertisement space in the event program book, visit www.melc.org/png. We hope to see you there!
NIOST Contacts:
Phone: (781) 283-2547
Email: This email address is being protected from spambots. You need JavaScript enabled to view it. .