Join Us! Afterschool Matters Webinar Series Begins Oct 26th
October 13, 2020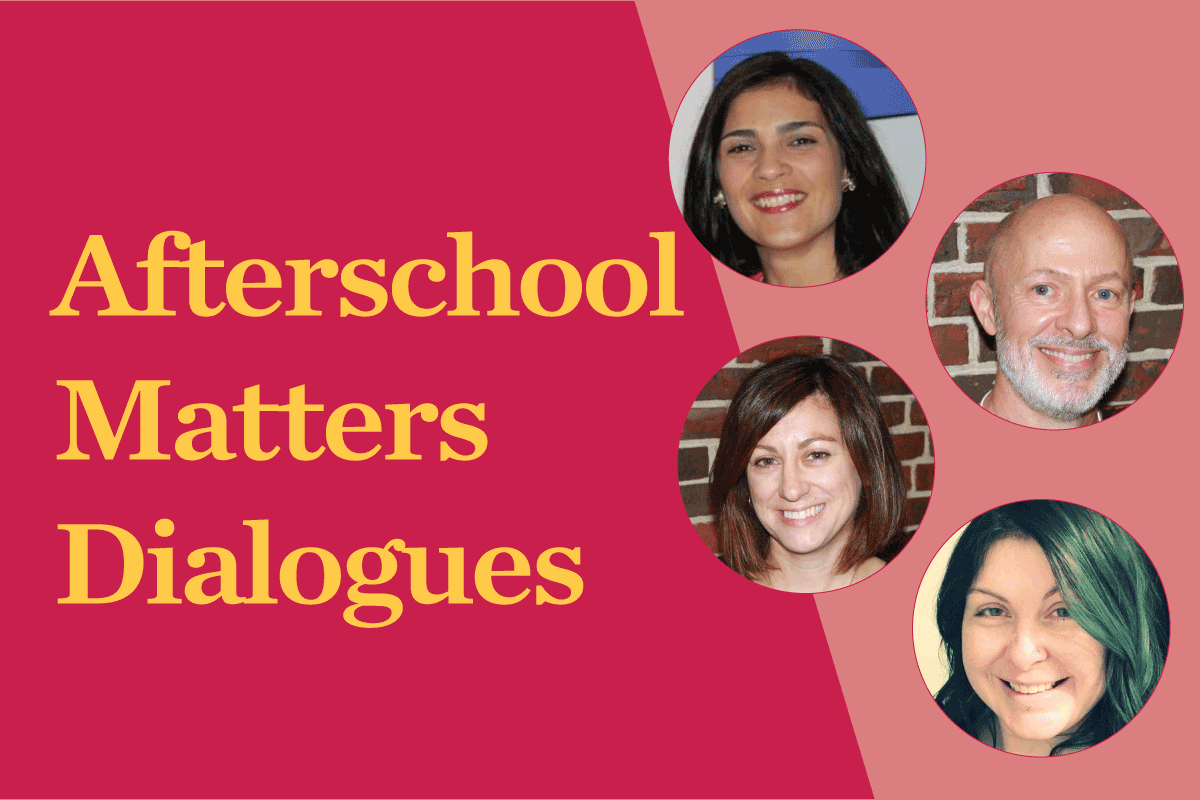 The National Institute on Out-of-School Time will host two virtual programs featuring out-of-school time and youth development professionals from around the country. These Afterschool Matters Dialogues will offer attendees the opportunity to learn about and discuss critical issues in the out-of-school time field. Both programs will feature presentations by National Afterschool Matters Fellows followed by a question and answer session with attendees.
Afterschool Matters Dialogue: Promoting Social Justice and Youth Perceptions of Law Enforcement
Monday October 26, 2020
12:00 p.m. ET

During this program, Mariana Quintanilla, a manager of Bay Area Community Resources (BACR) programs, will discuss out-of-school time experiences that promote social justice and diversity. Karl Benz of the Arkansas Out of School Time Network will share insights from a project that used guided reflective journaling to investigate youth perceptions of law enforcement professionals.


Afterschool Matters Dialogue: Approaches to OST Staff Training
Tuesday, November 17, 2020
12:00 p.m. ET

This program will consider different approaches to out-of-school time training. Maggie Winiarski, an After School Program Coordinator with the City of New Britain Parks, Recreation & Community Services Department in New Britain, Connecticut, will discuss the challenges and opportunities of OST staff training in light of COVID-19. Brandis Stockman, Deputy Director with Promise South Salt Lake in Utah, will share techniques from the Training That "Sticks" model. This model was created as a resource for supervisors to train staff in a way that promotes long-term skill building, particularly focused on training staff in behavior management strategies. The model is tailored to meet the needs of the unique OST workforce.

Both programs will be recorded for those who cannot attend live. Please send questions about the Afterschool Matters Dialogues to This email address is being protected from spambots. You need JavaScript enabled to view it..

The presenters in these programs are fellows of the National Afterschool Matters Fellowship, a one-year professional development and leadership training program that is informed by the theoretical and philosophical foundation of practitioner inquiry, that profiles practitioner knowledge and emphasizes the importance of practitioners in improving practice. It is hosted by the National Institute on Out-of-School Time (NIOST) at the Wellesley Centers for Women at Wellesley College with generous funding from the Robert Bowne Foundation.