National Afterschool Matters Fellowship Applications Now Open
April 19, 2017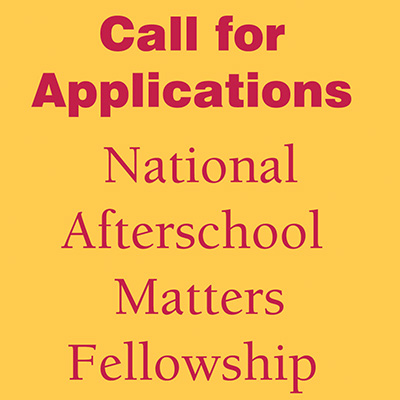 Out-of-school time, education, and youth development professionals in mid-career are invited to apply for the National Afterschool Matters (NASM) Fellowship, a two-year leadership development program that better positions them to inform and contribute to the quality of out-of-school-time programs, practice, and the broader field.
The NASM Fellowship, unique in its national reach and incorporation of technology for ongoing collaboration, is a collaboration of the National Institute on Out-of-School Time (NIOST) at the Wellesley Centers for Women at Wellesley College and the National Writing Project (NWP). It offers fellows the opportunity to become part of a professional learning community where they learn to reflect on, study, and assess their work to improve its quality and impact.
"We have been privileged over the past two years to be working with an enormously talented and enthusiastic group of fellows who have been honing their leadership, research, and critical thinking skills as related to out-of-school time," said Georgia Hall, Ph.D., NIOST senior research scientist. "We expect that each will continue to be a voice for building quality of out-of-school time experiences for children and youth in this country. Our hope is that the Fellowship has helped them find new energy and direction in their work through our shared experiences with reflection, inquiry, and writing."
Ian Hippensteele, a fellow from the first NASM cohort and extended day program coordinator for the Keillor Leadership Academy in San Diego, said the Fellowship was "a very helpful tool … to hone my research and writing skills. It has deepened my practitioner knowledge of the OST field, and the networking opportunities it has provided have been very valuable."
The two-year fellowship, supported by the Robert Bowne Foundation, includes:
A collaborative process of study, conversation, and engagement within a community of OST professionals in a shared investigation of OST practice, policy, and experiences;
Direct, hands-on inquiry-based research, learning, and writing, under the guidance of experienced mentors;
Leadership development, designing and delivering training/presentations for peers, administrators, parents, and community members;
Product preparation and writing for dissemination, such as briefing papers, workshops, curricula, and articles for professional publication;
Two retreats at Wellesley College, led by NIOST and NWP (travel stipend provided);
A participation stipend each year.
"Equal parts professional and personal development, the NASM Fellowship has been an incredible opportunity and the passion project I needed, both in my life and career," reported Devan Blackwell, a 2015-2017 NASM fellow. "Over the past two years I have been encouraged, supported, and inspired by mentors and fellow practitioners all advocating for the future of the OST field. That said, this fellowship experience will most certainly enhance the work I do moving forward."
The Fellowship's first cohort started their work in the fall of 2015. The second cohort will begin in the fall of 2017. Applications are due May 31, 2017.
For 38 years, the National Institute on Out-of-School Time has moved the afterschool field forward through its research, education and training, consultation, and field-building. Much of NIOST's work has encompassed projects of national scope and influence, several representing "firsts" for the field and many focusing on building out-of-school time systems. NIOST's mission is to ensure that all children, youth, and families have access to high quality programs, activities, and opportunities and that these experiences are essential to the healthy development of children and youth, who then can become effective and capable members of society. Learn more at www.niost.org.