Celebrating National School Breakfast Week
March 7, 2016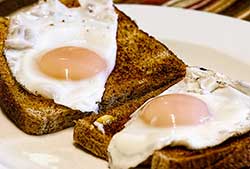 It's National School Breakfast Week, and HOST members are sharing information, ideas, and success stories.
Action for Healthy Kids offers a number of suggestions for how to celebrate the event and raise awareness among students and teachers about the importance of breakfast.
The Food Research & Action Center (FRAC) released its annual School Breakfast Scorecard which measures states on the rate of participation of low-income children in the federally-funded School Breakfast Program. West Virginia, New Mexico, and the District of Columbia each exceeded FRAC's goal of reaching 70-low-income children with breakfast for every 100 who ate lunch. At the bottom of the Scorecard, Utah and New Hampshire each served breakfast to fewer than 40 free or reduced-price eligible students for every 100 eating lunch.
The U.S. Department of Agriculture (USDA) commemorates the 50th anniversary of its School Breakfast Program with an overview of the positive impact of school breakfast, the increased participation in school breakfast programs, and the announcement of up to $6.8 million in competitive Team Nutrition Training Grants to help schools and child care sites sustain the implementation of healthier meals.
At East Midvale Elementary School in Midvale, Utah, a Breakfast in the Classroom program has more than doubled the number of students eating breakfast.
Salud America! (@SaludToday on social media) wants to promote healthy breakfast at school and at home for Latino and all kids. They invite people to snap a picture of themselves and/or their children having breakfast at home or at school and share it using #SaludNSBW / #NSBW16 on Twitter, Facebook, and Instagram for a chance to win a T-shirt and jump rope.