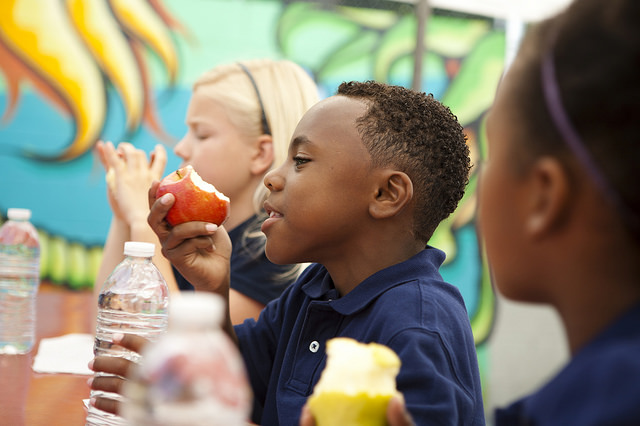 The latest in our regular roundups of healthy eating and physical activity news from HOST members and others.
News
On October 24, a number of schools around the country held healthy eating and physical activity events as part of Lights On Afterschool, a nationwide celebration of the importance of afterschool programs.
Philadelphia has enacted a new law that requires restaurants to make healthy drinks the default drink in kid's meals, rather than sugary sodas. Kid's meals must now offer a choice of water, nonfat/low-fat milk, or pure juice. Customers may still request sugary drinks, however. New York passed a similar law earlier this year.
Research and Information
A new report from the Rudd Center for Food Policy & Obesity, Children's Drink FACTS 2019, finds that nearly two out of three children's drinks sold in the U.S. in 2018 were unhealthy fruit drinks and flavored waters with added sugars and/or diet sweeteners, and none of the 34 top-selling children's sugary drinks met expert recommendations for healthy drinks. Salud America notes, "These unhealthy drink sales complicate health equity for Latino and black children, who are targeted more with sugary drink marketing and have higher rates of sugary drink consumption."
"School Meals Help Millions Of Kids Grow Up Healthy" as this informative new infographic from the Robert Wood Johnson Foundation shows.
Success Stories
It's Time Texas profiles Pharr San Juan Alamo Independent School District, one of only five school district winners in the 2019 It's Time Texas Community Challenge, awarded for its strong focus on creating healthy schools for students and staff.
Read More Roundup News