HOST HEPA Roundup
March 30, 2015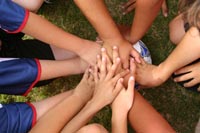 Here's a roundup of healthy eating and physical activity news from HOST members.
Upcoming Events and Activities
Government and Policy
Event Recaps
If you missed the National After-School Summit on March 24, you can watch the webcast. The event was organized by HOST members the Afterschool Alliance and the After-School All-Stars, in partnership with the USC Schwarzenegger Institute.
The National Parks and Recreation Association reports on its first Innovation Lab, held March 12-13 in Miami, Florida, where leaders of Miami-Dade County's Department of Parks, Recreation and Open Space (PROS) shared their ideas for a master plan for engineering their parks and open spaces with the goal of "equitable health outcomes."
Research
Education Week

and

MomsRising.org

cover the Afterschool Alliance's "Kids on the Move" report on how afterschool programs can support children's health and wellness.
Read More Roundup News