HOST Is Celebrating Afterschool Professionals Appreciation Week
April 24, 2017
It's Afterschool Professionals Appreciation Week, and HOST is celebrating all of the professionals who help out-of-school-time programs make a difference in children's lives!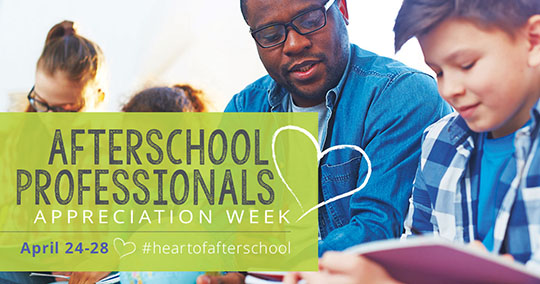 Here are some how some HOST members are marking the occasion:
The National AfterSchool Association (NAA) shares some ways for organizations to participate in the week and help spread the word, as well as ways for families, administrators/managers, and communities to join in and show their appreciation.
The Alliance for a Healthier Generation offers afterschool professionals themselves "7 Ways to 'Treat Yourself' During Afterschool Professionals Appreciation Week."
Youth Today looks at how this week and other events are trying to raise awareness about improving pay and opportunities for afterschool professionals and youth workers. Ellen Gannett, director of HOST member the National Institute on Out-of-School Time. and Gina Warner, president and CEO of the National Afterschool Association, each offer their thoughts here.
Watch this video from NAA to learn more about why afterschool professionals are the #heartofafterschool!