HOST Members on Events in Baltimore
May 20, 2015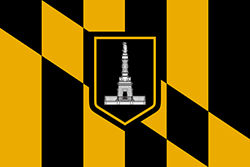 HOST member organizations, including one based in Baltimore, have responded to recent protests in that city following the death of 25-year-old Freddie Gray while in police custody. They look at how the systemic roots of the protests also underlie disparities in healthy eating and physical activity -- but they also encourage recreation and food programs to support and sustain children and youth in these communities and offer them opportunities for meaningful action.
Keith Benjamin of the Safe Routes to School National Partnership says that "80 to 90 percent of the 25,000 families displaced in Baltimore to build new highways, schools and housing projects were black." When we consider healthy eating and physical activity in Baltimore and similar communities, he explains:
The combating of violence, racial profiling, health disparities, low physical activity levels, food deserts and lack of neighborhood schools is rooted in the question of access. Does this community have access to its most basic needs and what have been the historical ramifications of these communities being cut off and disposed of? We know that people of color who are also low-income are more likely not to have a car, more likely to walk or bike to school and have taken up bicycling at a faster rate than white Americans from 2000 to 2009 – but do we know why and do we know the reverberating effects of that why?
In addressing these issues, he urges us to look beyond data, saying, "Though data identifies the problem, it's the on the ground community building that brings the right solutions into focus." 
Sarah Pitcock, CEO of the Baltimore-based National Summer Learning Association (NSLA), writes that, "A community where young people are hungry, lonely, and disengaged in the summer is a community without hope for a better future." Nevertheless, she says, "Funding for summer learning and recreation are inconsistent and insufficient in Baltimore and in many cities, despite the fact that these programs consistently show benefits in school and career success, juvenile crime, and health outcomes."
She asks for our thoughts on how to convince city and state leaders that "these programs are not inconsequential, but rather the fabric and connective tissue of our communities and the springboard for opportunity," and reiterates NSLA's commitment "to helping Baltimore City leaders weave a web of summer supports for all young people, supports that help them stay safe, healthy, and engaged in learning and building their futures, year-round." 
Finally, Andrea L. Dennis, associate professor of law at the University of Georgia School of Law, writes at Youth Today about the recent events in Baltimore and their impact on children and youth, including the temporary closure of schools and consequent disruption of both education and meals. She says that in addition to offering grief counseling, as the school system is doing, we should also help them process these experiences by "creating meaningful opportunities for youth to publicly voice their viewpoints and engage in positive action."