HOST Spotlight on Amy Moyer
June 24, 2015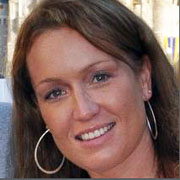 Amy Moyer is vice president of field operations for HOST member Action for Healthy Kids (AFHK), which fights childhood obesity, undernourishment, and physical inactivity by partnering with volunteer teachers, students, parents, and others to create healthful school changes. Moyer, who has a Master in Public Health and a Bachelor in Dietetics/Nutrition, Fitness and Health from Purdue University, began as a volunteer with AFKH 12 years ago, and has been a national staff member for eight.
What are the ways in which your organization is supporting the healthy eating and physical activity participation of children and youth?
We support healthy school environments by providing technical assistance and programs/tools to schools across the country. We grant fund more than 1,000 schools each school year supporting breakfast and physical activity programs. In addition, we train more than 10,000 members of school health teams about the best practices needed to create a healthy school environment each school year.
Can you share a story or anecdote that has helped to show how your organization's work is contributing to the local (or national) effort to improve children's eating and physical activity participation?
See the numerous success stories on our website, which can be filtered by age group, state, and AFHK program.
Why do you think it's important for the HOST Coalition and others to help spread the NAA HEPA Standards across the country?
It's long been needed to create a standard for what food is served to children during after-school programs, and to ensure after-school environments promote physical activity. This environment presents yet another great opportunity to instill healthy habits in our youth.