HOST Spotlight on Kathleen Tullie
October 19, 2015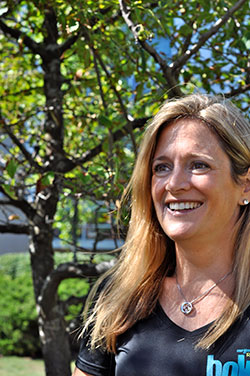 Kathleen Tullie is the founder and executive director of HOST member BOKS (Build Our Kids' Success) and director of social responsibility at Reebok International. She was kind enough to share some of her thoughts about her organization's work and the importance of healthy eating and physical activity.
How long have you been working in some capacity with your organization?
With a passion for physical activity, and new-found evidence after reading Dr. John Ratey's book Spark, I became an outspoken proponent of getting kids moving, and in 2009 BOKS (Build Our Kids' Success) was born.
What are the ways in which your organization is supporting the healthy eating and physical activity participation of children and youth?
BOKS is a free before-school physical activity program for kids. I believe that physical activity for children is absolutely necessary and that the lives of our children can be made happier, healthier, and even more successful by promoting the importance of movement and nutrition.
Our mission is to promote the profound impact of physical activity on a child's mind, body and community and we've seen those results. Through research studies with National Institute on Out Of School Time (NIOST), Dr. Wayne Westcott and now Harvard we we showing people the many positive results of getting kids moving in the morning. Evaluations by NIOST (2011-2014) and Dr. Wayne Westcott (Journal of Exercise, Sports, and Orthopedics: 2014) found that BOKS has a significant impact on physical activity intensity and daily duration, body composition (body fat percentage), nutrition knowledge, test scores, executive functioning of the brain, and school attendance. We've also found that at least 90 percent of parents and children would sign up for BOKS again and teachers can attest to its positive effects on learning readiness and classroom behavior.
Since 2009 we've grown to more than 1,500 schools across the world and we are only just beginning.
What are some of your organization's goals around the implementation of the HEPA Standards?
HEPA teaches children how to make healthy food choices and to enjoy physical activity, contributing to their social and physical development. And the BOKS program touches on all those points!
BOKS gets kids moving before school through fun, interactive games and moderate to vigorous activity in a friendly, non-competitive and fun environment. Classes are run by volunteers parents, PE teachers, or other community members two or three days per week for 12- to 15-week sessions. Each day is broken down into 40 minutes/class of functional fitness and play. We then end each class with a nutritional fact, developed by Tufts Medical Center in Boston, Mass., highlighting the importance of nutrition.
Can you share a story or anecdote that has helped to show how your organization's work is contributing to the local (or national) effort to improve children's eating and physical activity participation?
Here are four stories/videos that truly highlight the program best from a social, mental, academic, and physical perspective.
"Defying Fear": Isaiah has been in BOKS since it was offered at his school two years ago. When he first started he was a very shy child, who kept to himself and didn't really socialize. Isaiah is now not only the first to get to BOKS — he is a leader in the program, has starred in the school play and sings in chorus.
"The Right Start": Destiny has a difficult time with her behavior. On the days that Destiny participates in BOKS her teachers feel she has a higher quality day overall — staying on task, engaging in the classroom as well as work and she demonstrates less behavioral issues and challenges.
"Sharp Minds": Solomon was frequently getting frustrated with his schoolwork, giving up then and having a hard time returning back to class with a positive attitude. By getting active before the day starts, Solomon feels he can get the "wiggles" out and focus more on his work.
"Full of Energy": Asal recently moved from Iraq with little communication skills and minimal physical activity ability. But through perseverance and an eagerness to learn she has exceeded expectations in BOKS, expanding on her skill set every day, and has even moved on to participate in dance.
Why do you think it's important for the HOST Coalition and others to help spread the NAA HEPA Standards across the country?
The physical inactivity epidemic in this country is staggering. Our kids are NOT moving. With coalitions like HOST and program like BOKS we can change that! We need to come together and ensure that our kids grow up with an understanding of the importance of movement and nutrition. Exercise is medicine and we need to find a way to make sure each and every child in this world understands that.