HOST Spotlight on Normandie Nigh
June 11, 2015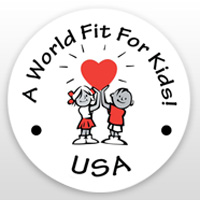 Normandie Nigh is the chief executive officer of HOST member A World Fit for Kids (WFIT). For nearly 21 years, she has led WFIT in providing "purposeful physical activity and action-learning opportunities that help youth develop the knowledge, skills and confidence required to make healthy choices that last a lifetime."
Prior to leading the California-based WFIT, she founded Fit For Success, a Boston-based consulting company that designed and delivered physical activity, sports, fitness, and personal development programs. She has also been a certified Personal Development Consultant for Tony Robbins and Associates and an International Fitness Marketing Manager for Reebok. She serves on a number of boards and steering committees related to youth services, health, physical activity and advocacy.
She took time recently to speak with HOST.
How WFIT is supporting healthy eating and physical activity in kids and youth
Before leading WFIT, Nigh had trained inner-city teens in Boston to be physical activity leaders and role models for younger children. When she took over at WFIT in 1994, she "immediately went to the local high school in the highest poverty, highest crime area of Los Angeles and recruited teens who needed additional support," she said.
She taught them to lead physical activities with elementary school students, who had no mandatory physical education. She then began organizing out-of-school-time games and activities, "long before there was funding or much support for it."
The program grew through a "matriculating model," Nigh said, with middle and high school students volunteering at their former elementary schools. WFIT also began recruiting and training college students, and for the past eight years, has also been working with teachers on integrating movement, physical activity, and healthy choices into their days.
WFIT now runs afterschool programs at 14 Los Angeles Unified School District (LAUSD) elementary, middle, and high schools, and two of those sites have been certified as Healthy Behaviors Learning Centers by the California Department of Public Health and the Center for Collaborative Solutions. WFIT prides itself on its staff training. "We take novices to physical activity and provide the training and support so they understand what a quality physical activity is and how to conduct it with limited resources, space, and equipment," Nigh said. "It takes the fear out of being a physical activity leader" for those who have not been one before--and both the kids and their mentors benefit from being physically active.
WFIT has drawn on relationships with several corporations in support of its goals. In the past three years, WFIT has trained about 3,500 teachers and out-of-school-time staff in LA County through support from Kaiser Permanente, which featured WFIT in this video. A Kaiser grant has also allowed them to help college physical education and kinesiology students intern with out-of-school-time staff and teachers.
Nigh has also partnered with Nike, training its employees to become physical activity leaders and volunteer in out-of-school-time programs at schools that may not have the resources or knowledge to implement physical activities. So far, WFIT has trained over 700 Nike employees around the U.S., as well as employees in Brazil, allowing it "to impact many more kids than we could ever do directly," Nigh said.
WFIT's goals around implementation of the NAA HEPA standards
WFIT is committed to HOST's goal of spreading the National Afterschool Association's HEPA Standards, Nigh said, noting that she was on a California steering committee that implemented statewide physical activity guidelines before the creation of the national standards.
WFIT's goal now, she said, is "to get LAUSD to commit to providing quality physical activity at all their schools." Additionally, she said, the staff at LA County's 1,800 state and federally funded out-of-school-time sites are "pretty untrained" about quality physical activity. She wants to change that.
She also wants to make the HEPA Standards "more appealing to out-of-school-time programs" and to commend programs that implement them well. She thus worked with state Senator Hanna-Beth Jackson last year to pass a bill creating the Distinguished After School Health Recognition Program. The state Department of Education is now looking at ways to validate this program's self-assessments and make sure they are aligned with the HEPA Standards. The legislation is now "a national model" for similar legislation around the country, Nigh said.
WFIT is also working with Kaiser and the Alliance for a Healthier Generation to encourage schools and out-of-school-time providers to become Let's Move Active Schools, part of First Lady Michelle Obama's Let's Move initiative. Nigh noted, "It may not say 'HEPA Standards,' but that's the ultimate goal: to start moving schools and out-of-school-time programs towards meeting those standards."
Why it is important to help spread the NAA HEPA Standards
"Healthy kids are successful kids," Nigh said. "They're not going to be successful in school, they're not going to be successful out of school, if they're not healthy. Health is the foundation of everything."
"Out-of-school time is the perfect place for us to support kids in making healthy choices, being more physically active, and eating better. When they learn they can take better control of their bodies, they learn they can take control of other areas of their lives, and they do better," she added.
Until physical education comes back as a core subject, she said, with money for credentialed physical education teachers, "we need to do everything we can for the students in our out-of-school-time programs to give them the experience of good health. To me, that's the bottom line: healthier kids, families, and communities."