You're Invited: Free HEPA Webinars
May 26, 2015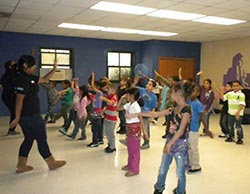 Afterschool professionals and others are invited to two upcoming free webinars on how to teach students from early childhood through middle school about healthy nutrition and physical activity choices.

Both interactive webinars will be hosted by Let's Move Faith and Communities, part of the First Lady's Let's Move! campaign. 
EatPlayGrow: Thursday, May 28, 2015, 1:00 p.m. - 2:30 p.m. EDT. EatPlayGrow is an early childhood health curriculum developed by the Children's Museum of Manhattan (CMOM) and the National Institutes of Health's We Can! program to teach young children and their parents about healthy nutritional and physical activity choices. During the webinar, CMOM educators will discuss EatPlayGrow obesity prevention lesson plans and activities, early childhood methodologies, wellness leadership and capacity building, and partner and community resource development for parents, educators and community leaders. Register here.
The Media-Smart Youth Program: Helping Kids Develop Healthy Habits and Media Smarts: Thursday, June 11, 2015, 12:30 p.m. - 1:30 p.m. EDT. Youth in this country spend about seven-and-a-half hours a day using media for fun. The National Institutes of Health has therefore developed the free afterschool program Media-Smart Youth: Eat, Think, and Be Active! to teach upper-elementary and middle-school students about media, nutrition, and physical activity. Webinar attendees will learn how to help youth think more critically about ads, hear success stories, and find out how to lead the program in their own communities. Register here.