Professional Development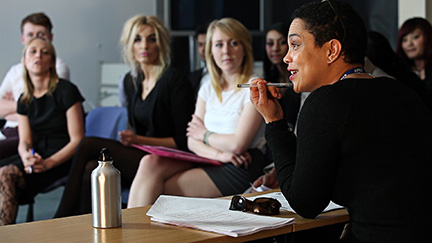 Dedicated, well-informed staff and administrators are at the core of a successful OST program. Our in-person, research-based professional development trainings are designed to give you the information and skills needed to build on the success of your OST programs and to improve in areas that need help.
Local, Affordable, Customized.
We work with OST site administrators as well as city/state/regional governments and professional organizations to plan private, in-person trainings at the location of your choice, anywhere in the U.S. Our in-person trainings can be tailored for groups of anywhere from 10 to 40 participants and typically last two full days (8:30am-4:30pm), led by one or two of our expert trainers, depending on the size of your group.
We want to be sure that our trainings work for you, which is why we are proud to have the flexibility and creativity to adapt our trainings to meet your needs. Whether it's a newly developed program or a combination of our many training offerings, we can work together to ensure that you get exactly what you are looking for.
Browse our Professional Development Opportunities
Leadership Development

Leadership training is the first step in strengthening any afterschool program. How we see ourselves as leaders impacts the relationships we have within our program and our extended community. We can help you and your team develop skills that target not only the administrative aspects of your program but also the cultural competence to understand the unique needs of youth you serve and relational aspects that keeps programs stable and well attended.

Social and Emotional Learning and Enrichment

Take your program to the next level. Partner with us to develop your practices in the areas of social and emotional or project-based learning. Develop the staff skills that will increase youth engagement and leadership and will include the cultural diversity, age span, and developmental needs of all youth served by your program.

Continuous Quality Improvement

Grow your OST program into something strong and sustainable, because a strong, sustainable OST program makes all the difference to the community it serves. We can help you on the path to sustainability through Continuous Quality Improvement (CQI), by preparing your team for CQI, teaching you a CQI process, or helping you initiate CQI across a network of programs. Together, we will help your families, youth, partners, and community create a culture committed to sustaining the wellbeing and life success of the youth you serve.

Assessment and Evaluation

Data tell the story of your program, identifying strengths and areas for improvement. The APAS System is a research-based, field-tested suite of customizable tools used to measure OST success. Learn more about the APAS System and how NIOST is measuring OST success.

National Afterschool Matters Fellowship

This one-year professional development and leadership training program is unique in its national reach and incorporation of technology for ongoing collaboration. This fellowship is provided by the National Institute on Out-of-School Time (NIOST) at the Wellesley Centers for Women at Wellesley College with generous funding from the Robert Bowne Foundation.

After School Gets Moving

This free media-based professional development intervention provides practitioners with: (1) a media-based staff training program with developmentally appropriate games/activities and (2) a Leader's Guide to structure use of the media in a professional development workshop.

ASQ: A Guide to After-School Quality

Learn the ins and outs of improving OST program quality in 5 easy steps with our team-based approach. Our 48-page guide will walk you through the unique ASQ quality improvement process and teach you how to implement the model at your OST program site.
Build on your OST success with our professional development trainings.