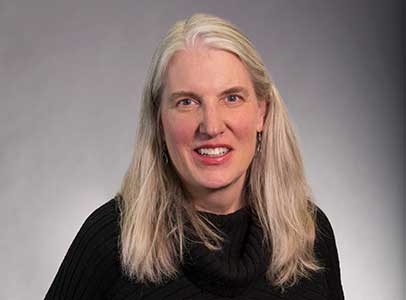 Kathryn A. (Katie) Wheeler
Research Associate
Ed.D., Harvard University
katie.wheeler@wellesley[dot]edu
Kathryn A. (Katie) Wheeler, Ed.D. rejoined the National Institute on Out-of-School Time (NIOST) as a research associate in 2016 after a 14-year hiatus. Her expertise is in programs that empower girls. She has worked in a variety of capacities in this field, ranging from grant-making to evaluating individual programs and assessing community needs.
Education
Katie holds a doctorate in education from the Graduate School of Education at Harvard University, where she worked with renowned scholar, Dr. Carol Gilligan, examining girls' relationships with science. She holds a bachelor of arts with honors in psychology from Pitzer College.
Background
Katie served as editor-in-chief of Teen Voices -- a feminist magazine for adolescent girls -- and editor of Girl Matters, a journal for adults who live and/or work with girls. She was also executive director of the Girls' Coalition of Greater Boston -- an organization that served girls by supporting their adult advocates.
Affiliations
Wheeler is the current president of the Anna B. Stearns Foundation. She is also a member of AERA (American Educational Research Association) and NAA (National Afterschool Asssociation) as well as the Religious Education committee and the nursery volunteer coordinator at the Unitarian Universalist Church of Reading (MA).
Awards & Recognition
Doctoral qualifying paper at Harvard University was passed with distinction.