Now Available: Free Coaching Guide for OST Professionals
March 9, 2020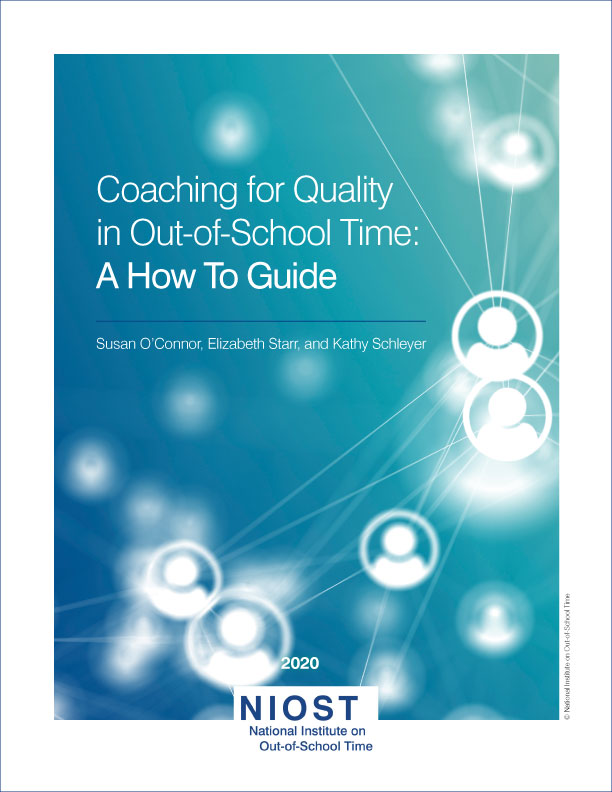 NIOST has released a resource for those who coach out-of-school-time (OST) programs. "Coaching for Quality in Out-of-School Time: A How To Guide" is both for internal coaches (program leaders who coach their own staff) and for external coaches (consultants who visit programs to help improve quality).
"Research now confirms that coaching is one of the most effective ways to support staff and improve program quality," said Kathy Schleyer, director of training and quality improvement at NIOST, who wrote the guide along with Susan O'Connor, national training associate, and Elizabeth Starr, research associate. "We're excited to offer this resource that will help coaches learn how to tailor their approaches and strategies in order to have the biggest impact."
For over 40 years NIOST has been consulting with and evaluating out-of-school time programs and promoting skill development with OST professionals. The organization has a deep understanding of what quality is, how to measure it, and why quality improvement needs to be continuous.
Coaching is a highly effective way to achieve that continuous improvement, and is fundamentally about helping program leaders or staff teams see their strengths and identify areas that can benefit from more attention. Coaches then help address growth opportunities through, for example, staff development, activity design and planning, or school connections.
The guide covers the core coaching competencies of relationships, communication, principles of adult learning, professionalism, and continuous quality improvement, as well as effective coaching strategies. It can help both internal and external coaches assess their own strengths and needs, build expertise, create a team approach, and build a learning organization that values everyone's roles and contributions.
"The guide is a refreshing and very powerful read for anyone even considering coaching on continuous quality improvement or almost any other important change process," said Dale A. Blyth, Ph.D., who served as a Howland Endowed Chair in Youth Leadership Development at the University of Minnesota College of Education and Human Development. "What most impressed me is the ease of reading combined with the depth of content. Major ideas are presented clearly and very succinctly so that one can both learn them and use them immediately."
The guide is available for free download. It includes a self-assessment to help coaches gain skills and a readiness survey to determine an organization's preparedness for continuous quality improvement.