Join Us! No Neutrality in the Face of Hate: How YOU Can Help Youth Resist Fascism
January 15, 2021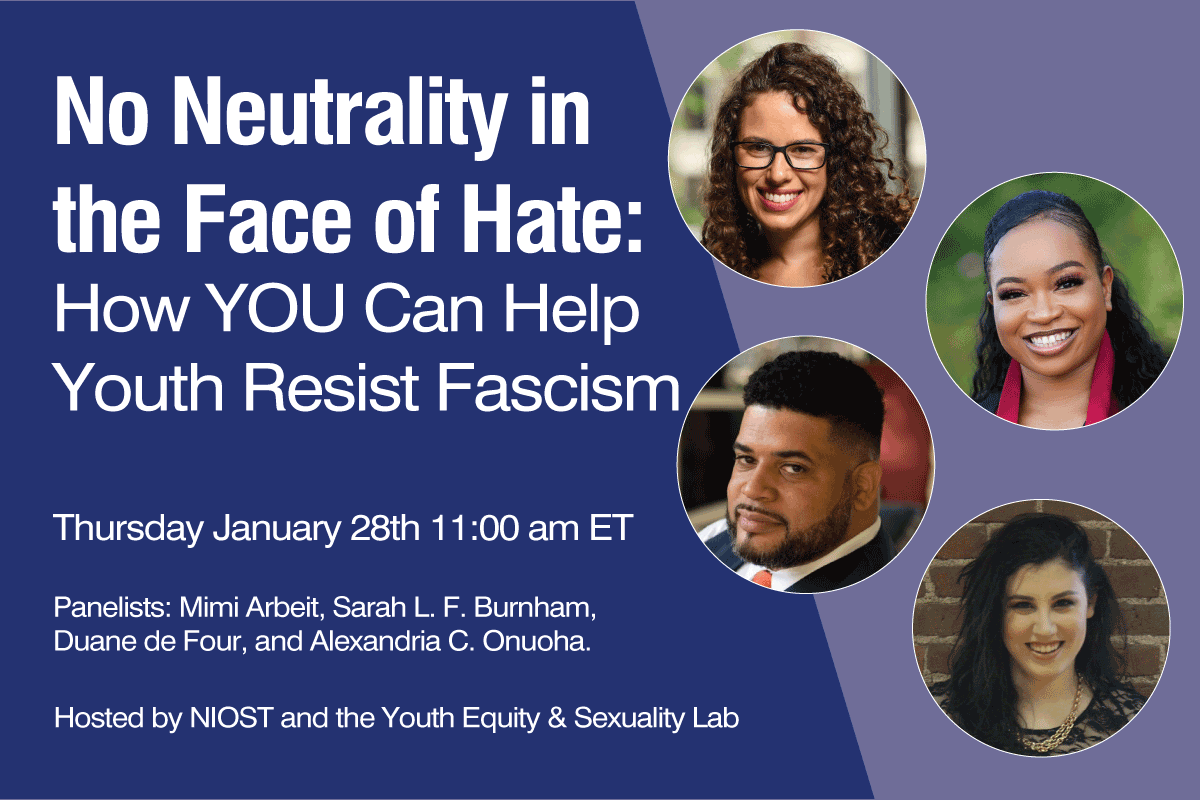 In this workshop hosted by NIOST and the Youth Equity & Sexuality Lab, four scholar-educators will present their paper from the Journal of Youth Development titled "Youth Practitioners Can Counter Fascism: What We Know and What We Need."
No Neutrality in the Face of Hate: How YOU Can Help Youth Resist Fascism
Thursday, January 28, 2021
11:00 a.m. ET

Images of white nationalists breaching the United States Capitol now circulate the Internet, followed in many places by lies glorifying the attack. White nationalist and misogynist fascist groups use such images, lies, myths, and conspiracy theories to try to bring more people, especially white male youth, over to their side. But you can do something to stop them. As youth development practitioners, you have the knowledge, skills, and tools you need to help youth resist fascism. In this workshop, four scholar-educators present their paper from the Journal of Youth Development titled "Youth Practitioners Can Counter Fascism: What We Know and What We Need." We will discuss strategies for immunization, intervention, and counter-recruiting youth into movements for social justice. We will not be neutral in the face of hate.
Presenters:
Mimi Arbeit, Ph.D.
Mimi Arbeit (she/her/hers) is an assistant professor of psychology at Suffolk University and Principal Investigator of the Youth Equity & Sexuality Lab, focused on promoting adolescent development and fighting white supremacy, fascism, and cis-hetero-patriarchy. Current projects investigate how sexual violence prevention practices can address threats posed by male supremacists, and how adults can interrupt far-right and fascist attempts to recruit youth into their ranks. She's had the honor of supporting and collaborating with antifascist community organizers in Charlottesville, Boston, and beyond, and supported media strategy across a network of antiracist activists fighting back against the 2017 white supremacist attacks on Charlottesville. She works to integrate antifascism with youth development theory and practice. Read more at MimiArbeit.com or follow @MimiArbeit.
Sarah L. F. Burnham
Sarah L. F. Burnham (she/her/hers) is a second-year applied developmental psychology doctoral student at Suffolk University working in the Youth Equity & Sexuality lab. Her research interests are focused on radicalization pathways of youth by way of social media, and her current project assesses whether and to what extent parents of adolescents can identify white nationalist messaging on social media platforms. She is also a doctoral research intern at Political Research Associates.
Duane de Four
Duane de Four (he/him/his) is an educator with more than twenty-five years of experience developing intersectional curricula, strategic initiatives, and policies, as well as the facilitation of workshops and discussions focused on a variety of social justice issues. Duane has done this work with young people and adults in middle and high schools, youth detention centers, the NFL, NBA, NHL, MLB and NASCAR, all branches of the U.S. Military, and colleges and universities across the United States, among other locations. Duane is currently working toward a Ph.D. in Higher Education at UMass Boston, while teaching at Merrimack College, serving as a member of the MA Governor's Council on SA/DV, and the board of directors at the Boston Area Rape Crisis Center (BARCC). Learn more at DuanedeFour.com or follow @TriniD4.
Alexandria C. Onuoha
Alexandria Onuoha (she/her/hers) is a first-year applied developmental psychology doctoral student at Suffolk University in the Youth Equity & Sexuality lab. Her primary research focuses on the messages of far-right groups and their impact on the development of Black women college students on campus and online. The goal of her research is to provide strategies for higher education institutions to address far-right ideologies in efforts to create safe educational spaces for Black women. She is also the Director of Political Advocacy at Black Boston, which is a community organization that strives to prevent racial inequalities and promote solidarity among Black Bostonians.
Please send questions about this program to This email address is being protected from spambots. You need JavaScript enabled to view it..